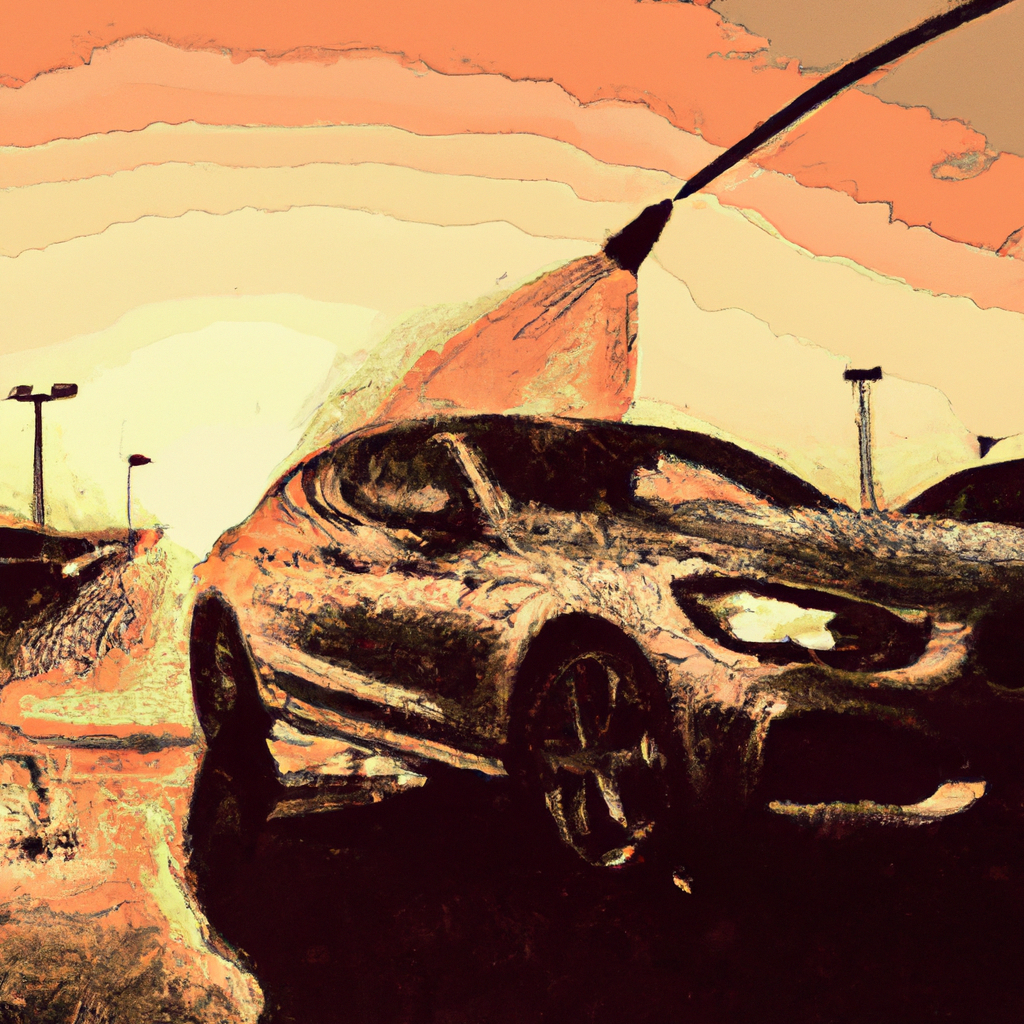 The Best Way to Wash a Car Without Scratching It
To ensure that your car is immaculately cleaned and free from scratches, follow these steps for the best way to wash a car without scratching it. Begin by conducting the necessary pre-washing preparation, then move on to washing and drying the car. We'll also provide extra tips for preventing scratches and conclude with a summary of the best practices.
Pre-washing Preparation
Proper Carwash Prep: To ensure a scratch-free wash, here's what to do.
Park in a shaded spot, away from sunlight.
Rinse car exterior to remove dirt or debris.
Apply pH-neutral car shampoo to microfiber mitt. Gently wash one section at a time. Rinse the mitt afterwards.
Rinse the car and dry with a soft microfiber towel. Use pH-neutral soap to avoid stripping wax and protectant. Don't use dish soap or anything not made for cars.
Pro Tip: Use two buckets (or your neighbor's motorcycle helmet!) for washing – one with soapy water and one with clean water. This prevents contamination and scratches.
Gather materials
Car owners take pride in washing their cars. To do it right, you need some materials. Get soap that works on your car's paint. Also, get two microfiber cloths – one to wash, one to dry. Plus, a foam applicator pad, a quality bucket with a grit guard insert, and a spray nozzle or pressure washer.
Avoid direct sunlight when washing, and use gentle movements. Taking good care of your car helps it last longer.
My dad taught me this. He washed his old blue truck every Saturday. Don't wait till your car looks like it went off-road. Better rinse now than cry later!
Rinse car to remove loose dirt
Protect your car from scratches with a strategic approach to rinsing. Here's a 3-Step Guide:
Use a strong stream of water to cover the entire surface of the car
Don't use high-pressure washers close-range, it can cause damage
Change the direction of the water flow often to remove all debris
Remember, rinsing is a process. Move in an organized pattern to cover your car's surface.
Also, use only clean water for each step. Wash mitts, towels and tools can collect dirt particles from past uses. Avoid reapplying these particles, so use fresh water throughout each step.
Follow these steps, you'll get a scratch-free and swirl-free result. Shine brighter than your future!
Washing the Car
When it comes to car-cleaning, washing is key. But how can you avoid scratching it? Here's a guide to making sure your car stays glossy with no harm.
Choose the right products. Opt for car-washing formulae rather than general cleaners. Start by rinsing your car with a hose or pressure washer to remove dirt and debris.
Apply the soap or shampoo from top to bottom. Wash one section at a time so suds don't dry onto the surface.
Scrub each section with a bucket of water and microfiber mitt. Wash off the suds and repeat until fully washed. Then, ensure thorough drying with a clean microfiber towel.
Extra care is needed for intricate parts like wheels and rims. Use specialised equipment if necessary. But the soapy rules still apply.
Don't miss out on these steps. They help keep your car in good condition. Treat your car to a spa day with high-quality car wash soap!
Use a quality car wash soap
When it comes to car washing, the right soap is key. Low-quality soaps can leave fine scratches, which are costly to repair. Get a premium car wash soap instead.
It has a lubricated formula that loosens dirt without scratching. Plus, it has a pH-balanced detergent that removes grime without harming the paint or wax. And, it has higher concentrations of cleaning agents, saving time and reducing the need for re-washing.
Don't use dishwashing liquid or household cleaners, as they can damage the paint's gloss by removing the wax layers.
Big companies invest in specialized car soaps to make them more effective. That's why they're better than generic cleaning products. Use microfiber mitts instead of your ex's fur gloves – they work better and won't leave any emotion behind.
Wash the car with a microfiber mitt
Using a microfiber mitt is the way to go when it comes to washing your car. It reduces the risk of scratches and swirl marks and gives your car a gentle touch. Here's a 3-step guide on how to do it:
Fill two buckets with water. Add car wash soap to one.
Dip the mitt in the soapy water. Wash your car from top to bottom, in a straight line motion. Rinse the mitt in the bucket of clean water.
Rinse the car with a hose or pressure washer.
Don't use fabric softeners or dryer sheets when washing the mitt, as it may leave residue and clog the fibers.
Washing your car regularly keeps it looking great and protects its paint job. Take advantage of this opportunity – you won't regret it!
And don't forget: the only time you should be afraid of getting wet while washing your car is when you're holding your phone!
Rinse frequently
To keep your car scratch-free, it's vital to give it a good clean. Rinsing off dirt and debris during the wash will protect its finish. Here's a 5-step guide on how to rinse properly:
Soak the car completely with water before you start.
Use a hose or pressure washer to spray each area.
Rinse off any suds or residue after applying soap or cleaning solution.
Use a specific hose attachment for rinsing only.
Repeat around delicate parts like mirrors and headlights.
Not rinsing often could harm your car's paint job and bodywork. This means costly repairs! Don't forget to rinse often while washing to keep your car looking its best.
To make your car even shiner, why not dry it with a towel instead of going to the gym?
Drying the Car
Wash your car with a soft towel to avoid scratches and save yourself from therapy bills! After that, it's important to dry the car thoroughly. Use a microfiber towel and follow these 3 steps:
Start at the top and work downwards.
Gently blot each area without wiping.
Wring out the towel regularly.
A second clean and dry microfiber towel can be used for a final buff after drying. Don't dry in direct sun or when the surface is too hot – this can lead to water spots. Keep your microfiber towels in good condition for effectiveness.
For the best results, wash and dry your car in a shaded area with quality automotive products. With these tips, you'll keep your car looking great!
Use a soft, absorbent towel
Using an absorbent cloth is important to save your car's paint from scratches. Pick the right type of towel and you can get rid of dirt and debris while keeping your vehicle's surface safe.
These four steps will help you use a soft, absorbent towel to clean your car:
Pick a microfiber towel made for car washing.
Rinse it with warm water and squeeze out extra water.
Do it section by section, start from the roof and go down.
Rinse the towel often with clean water to prevent scratching from particles.
Plus, be sure not to put fabric softener or bleach on the towel when washing it. This will make sure your towel stays effective and lasts.
My own experience taught me that one time I used an old dish towel to dry my car after cleaning. The next day, many scratches were seen on my car's surface! I got to know that different fabrics have different functions when it comes to washing cars.
Don't wipe, just blot – it's like you are giving a gentle pat to your car.
Blot drying instead of wiping
Blotting is a safer option than wiping when drying your car. This helps to protect its paintwork from scratches. Follow these 4 steps to blot dry your car:
Get a soft, clean microfiber towel.
Place it on the wet area and let it soak up water without rubbing.
Fold the towel over when it is damp and keep blotting until all excess water is gone.
To be extra safe, use another clean cloth if needed.
Blotting not only prevents smears but also guards even delicate surfaces from damage. Fun Fact: A study by Automative Journal UK showed that chamois leather cloths are the most effective way to prevent marks during rain and fog! To safeguard your car, it's best to be cautious and take extra steps.
Extra Tips for Preventing Scratches
For scratch-free car surfaces, just washing isn't enough. Safeguard your car with these extra measures:
Choose soft mitts made of microfiber or lamb's wool. Avoid any containing nylon or polyester; they can damage the paint.
Rinse your car first to remove loose dirt and debris that could cause scratches during cleaning.
Use pH-neutral soap to wash, instead of dishwashing liquid. This won't strip away protective wax and won't scratch anything near it.
Park in a shady spot to reduce temperature changes that lead to water spotting.
To protect your car further, wax it or apply paint sealant. This adds an extra layer of protection from environmental contaminants, tree sap, and bird droppings.
Take these precautions seriously. Fixing scratches is costly.
Keep your vehicle shiny – follow these tips for optimum maintenance. Your car will sparkle after each wash. Double the fun – use two buckets!
Use a two-bucket washing method
For scratch-free car washing, use the two-bucket strategy!
Get two buckets: one for pre-washing rinse and one for soapy water.
Apply lubrication when you're soaping up your car with the soapy water.
Then, rinse off your automobile, and use the second bucket of clean water to remove any remaining dirt.
This two-bucket method lessens the risk of scratching your car's exterior.
It was Autopia Car Care who coined the term in 2006, urging people to take proper care of their vehicles!
Cars need TLC, too – not just a quick spin at the car wash.
Avoid automatic car washes
Avoid automated car washes! They may lead to unintentional scratches on your vehicle's exterior. Handwashing is a great alternative. Use microfiber towels and a gentle cleaning solution. Don't use old cloths or low-quality towels as they can leave lint and small particles that scratch the surface.
Research suggests even touchless washing machines can scratch cars if not correctly maintained and cleaned regularly. Maintenance is key! Be cautious when getting your car washed. Patience pays off! Wax on, wax off – just like Mr. Miyagi taught us – unless you want your car looking like it's been in a karate fight.
Wax the car regularly
Protecting a car's surface is a must to avoid any scratches and damage. Waxing is an effective way of keeping the car looking new. It creates a shield around the car's paint, protecting it from any external elements. To wax the car, follow these steps:
First, wash the car.
Make sure the surface is free of dirt.
Choose a wax that fits your car.
Apply it in thin coats with a microfiber cloth.
Wait a few minutes and buff off the residue.
Repeat this process every few months.
Not just scratches, wax also defends against UV rays, acid rain and bird droppings. It even reduces water spots and makes cleaning easier. Plus, it adds a shine to your ride.
Avoid cheap waxes or over-application as it can leave stains, smudges or do more harm than good. Check labels for the right usage instructions.
Waxing has been a part of car maintenance for centuries, from animal fats to polymer sealants or natural ingredients like beeswax and carnauba wax.
Clean car, clean conscience and a good sense of humor – the three key traits for a successful car washing experience.
Conclusion
To finish, it's essential to give your car a wash without leaving scratches. Use two buckets, high-quality products, and the right techniques. Avoid harsh chemicals and tough tools, as they could harm the paint. Always start from the top and go down in sections, rinsing often.
For more advice, before washing the car, give it a pre-rinse to take away loose dirt and debris. Dry your car with a microfiber towel or chamois to dodge water spots. Doing regular maintenance is key to keeping your car's exterior looking its best.
According to AAA, a study showed that using a grimy rag or sponge added dirt particles that could cause micro-scratches and swirl marks on the car's surface. It's essential to use clean cloths or mitts when scrubbing the car.
Frequently Asked Questions
Q: What is the best way to wash a car without scratching it?
A: The best way to wash a car without scratching it is to use the two-bucket method. Fill one bucket with soapy water and another with clean water. Rinse the sponge or cloth in the clean water after each pass over the car.
Q: Can I use dish soap to wash my car?
A: No, you should not use dish soap to wash your car. Dish soap is too harsh and can strip the wax from your car's paint.
Q: What type of soap should I use to wash my car?
A: You should use a soap that's formulated specifically for washing cars. Look for a pH-neutral soap that's gentle on paint and won't strip the wax.
Q: Should I use a power washer to wash my car?
A: No, you should not use a power washer to wash your car. The high pressure can damage the paint and cause scratches.
Q: Can I use a chamois to dry my car?
A: Yes, you can use a chamois to dry your car, but it's important to keep it clean and free of dirt and debris that could scratch the paint.
Q: How often should I wash my car?
A: It's recommended to wash your car every two weeks to keep it clean and prevent buildup of dirt and grime that could damage the paint.